Chris Frape is a Wollongong-based photographer, featured in the City of Sound exhibition launching in June in Crown Street Mall. Chris is a well-known face on the local music scene. With 25 years experience in live music and event photography, Chris has worked with some of the biggest names in the industry. His work has featured on multiple album covers and art from Midnight Oil to Urthboy, and been published in music and mainstream media from Drum Media to the Sydney Morning Herald.
It's no secret that Covid hit the music industry hard, and photographers are still feeling the pinch. We asked Chris how he found his way into the industry, how Covid has affected the local scene, and where to next.
What do you love about living in the Illawarra?
I did a few years around Stanwell Park in the early 2000s, and moved back from Sydney to Austinmer in 2011. I love being a part of a thriving music scene, full of talented hard working music industry folk who have created an internationally recognised live music hub. Of course, I love time and space to enjoy my family on beautiful Dharawal Country. Lock-down really cemented that there's nowhere I'd rather be, oh and heaps of surfing.
How long have you been a photographer, and how did you develop your skills?
On and off, over 25 years. I started in the darkroom at high school, and from there I began to venture out into the live music scene as a performer, punter and photographer.

I'm mainly self-taught. My high school years of basic black and white photography were a big influence, as was my dad who was an avid photographer who shot nearly all his photos on slide film, which is a skill in itself. Shortly after I started, I got a lucky break with Sydney publication On the Street shooting and reviewing big shows like the Sex Pistols, Pantera and Crowded House.
Rock and Roll kind of died in the late nineties. Heaps of venues closed for poker machines. I started working in hospitality, but I stayed connected with the scene. I fell in love with the emerging hip hop scene and started to capture the rise of Sydney acts like The Herd, Hermitude, Horrorshow and Thundamentals.
I was then fortunate to become resident photographer at two of Sydney's most iconic music venues; The Basement jazz venue and The Lansdowne Hotel.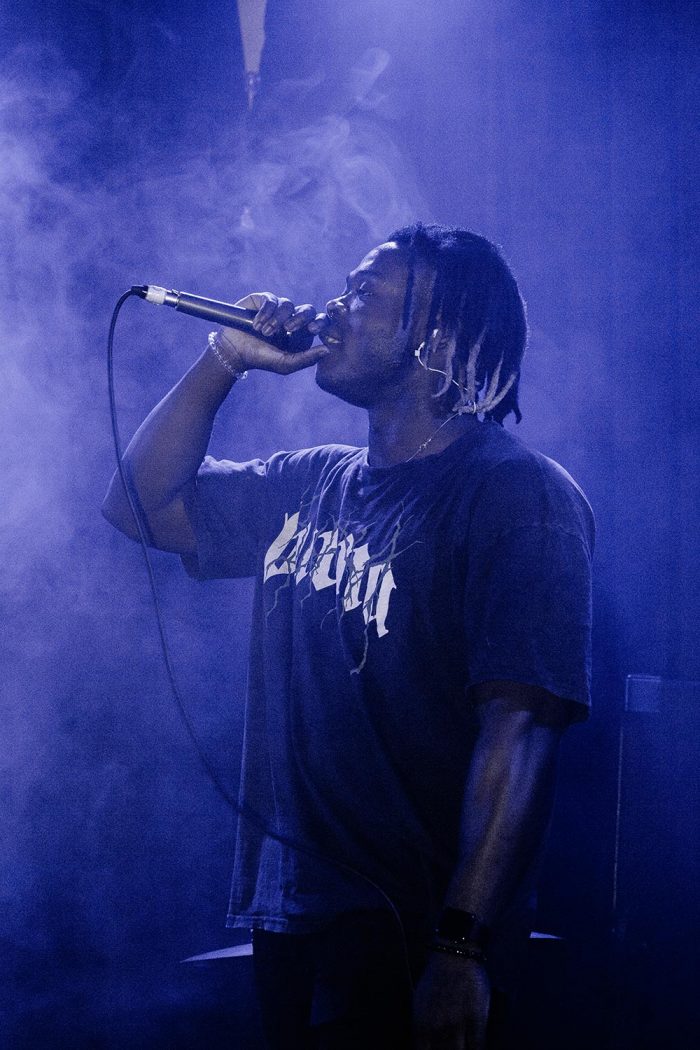 How did you get involved in the Wollongong scene?
In 2011, while I was studying a Diploma of Photography in Sydney, we moved to Austinmer. I met Shining Bird, the Pinheads, a very young Hockey Dad, and Adam from Yours and Owls. I instantly fell in love with the passion and growing talent in the area and began taking photos at as many shows as possible. Eventually I became the resident photographer at the UOW Uni Bar and have been part of the photography team for Yours and Owls Festival since its inception. I have taken photos at over 300 shows at the Uni Bar and at around 3-4 bands per show that's a lot of bands!
Did you have any mentors or influences on your style?
Sophie Howarth and Tony Mott were and continue to be heroes of mine. Glen E Freedman is probably my biggest influence. His photos of Fugazi and Minor Threat, and his skateboarding shots have such an intense energy while also capturing an era.
Lately a photographer named Jason Evans who works closely with electronic artist Fourtet in producing album art that looks like the music (it's hard to explain!) but that's what I look for in photos. I can't go past the opportunity to shout out some of hardest working and talented Australian music photographers: Ian Laidlaw, Michelle Grace Hunder, Maclay Heriot and Jess Gleeson.
What's your approach to music photography? Are there particular challenges or techniques unique to this type of photography?
Shooting photos in low lighting, dark venues, or unpredictable rapidly changing lighting is always a challenge, but often presents itself as an opportunity to use creative techniques or incorporate movement into my images and capture the true energy of a live show. I also use higher ISO setting in digital, and push processing or cross process film to emulate a musician distorting a guitar or turning up amplifiers 'til they nearly break.
I also enjoy capturing the quiet and space of instrumental music. Recently I shot a classical concert which was fresh and exciting for me. I'm always looking to step out of my comfort zone.

Have you ever been a performer?
I played in grunge band Sneaker during the mid-nineties. When we split, I put down the bass and started DJ-ing and producing hip hop and electronic music. My bands were usually fairly short lived but always super fun.
Is there a moment in your career that really stands out?
When I think about some of the gigs I've shot, I pinch myself. I've shot incredible artists in amazing venues, and had the occasional opportunity to have a beer or dinner with some of my favourite artists, which makes it all worth it.
Last year I won the Monster Children Photography Competition music prize, which is one of the highest accolades in music photography in Australia. What I do isn't usually recognised in awards and this one was really humbling (and the prize money certainly came in handy during Covid with no work). The added bonus was that my photograph was exhibited in downtown Los Angeles by Monster Children which was totally unexpected.
How has Covid affected your work and the industry locally?
It's pretty simple really - the industry stopped. I had close to 100 shows booked, shot maybe 10-15 and got paid for probably 10. We were one of the first industries to be impacted and continue to be one of the hardest hit.
Job Keeper helped, and I loved getting some extra time to spend with my daughter, partner, family and friends. The lingering anxiety of an uncertain future for live music has been heartbreaking for myself and so many others but I see a great resilience and strength in the community that surrounds me.
The industry still can't afford to pay photographers, so we remain a long way off where we were. It's been incredibly tough. Even as I write this more shows have been cancelled over the past week due to snap restrictions.
This time has also given me an opportunity to delve further into portrait photography, particularly of musicians (of course) in my new studio space.

How would you describe the Wollongong music scene? What's unique about it?
Strong is the first word that comes to mind. Music always brings together misfits, ratbags , loners, the disenfranchised and people who don't have a voice in other spaces. The Illawarra scene is close-knit because it's a regional town. It has a sense of warmth to it.
There is a sense of owner ship of something that is greater than just the music. It's a community of people who look after each other. When a local band does well, it's celebrated as a win for the area and lifts the spirit of other musicians because it shows that you don't have to move to Melbourne or Sydney to forge a career in the music industry.

What's your favourite local music venue?
Past: RAD bar
Present: La La Las ( although I haven't experience the venue at full strength because of Covid. I'm really looking forward to seeing something really loud and raucous there.
Future: I can't wait to find out. There are plenty of young creatives getting different things happening - there are always new corners of music unfolding.

What happens next?
This year I set up a studio and gallery space in a Bellambi warehouse full of established and emerging creatives. It has been exciting to work alongside people whose perspectives and projects inspire me to try new and different things. We are having our first exhibition in the gallery this month and I am looking forward to seeing where the rest of this year takes us.
Visit the City of Sound exhibition in Crown St Mall this winter, or learn more about Chris Frape here.
Banner image: Chris Frape, photographed by Tom Healy.