Daniel Breda is a Wollongong-based artist working across traditional painting, installation, virtual reality and video. He's also a member of punk band 'Hoon'. In 2016 he completed a Master of Fine Arts (Painting) at the National Art School Sydney and has been creating excitement as an emerging talent ever since. Daniel has always found traditional hung artwork stifling, in that you can't touch or understand or experience it up close. His recent 'Art as Activity' exhibition at Project Artspace brought together Virtual Reality, a ball pit and large scale paintings to create an immersive experience where viewers interacted first hand with the exhibits.
Daniel also dresses his stages with art for his live music performances. This Winter, Wollongong CBD has collaborated with Daniel to dress the Crown Street Mall stage and flag banners in celebration of the CBD's vibrant live music scene. We asked Daniel how he came to combine music and art, and uncovered some of his unique art experiences.
What inspired you to incorporate art into music performance spaces?
Music and art have been synonymous in my life and lifestyle since I was an early teenager, so it was only a matter of time before they really obviously collided to build projects in unity with one another. Musicians and Visual Artists are totally reliant on each other. If you were to release an album, one requires an album artwork. As a digital artist, if you create a visualisation or film based art/artwork: you require music to some degree as its accompaniment. I have been working with this crossover in mind, primarily with my band members in Hoon since our inception. Three out of the four of us are also visual artists, so we have been collaborating with video, art, music and everything else that it takes to release music since we formed.
The first time we really pushed this into live performances was in 2019 at "Hoon-Fest", held at UOW. We introduced projection mapping, live painting and video/audio synthesis into the live performance. That's been extended now with all of the Crown Street Takeover projects, and our "All Of Us" all ages mini-fest.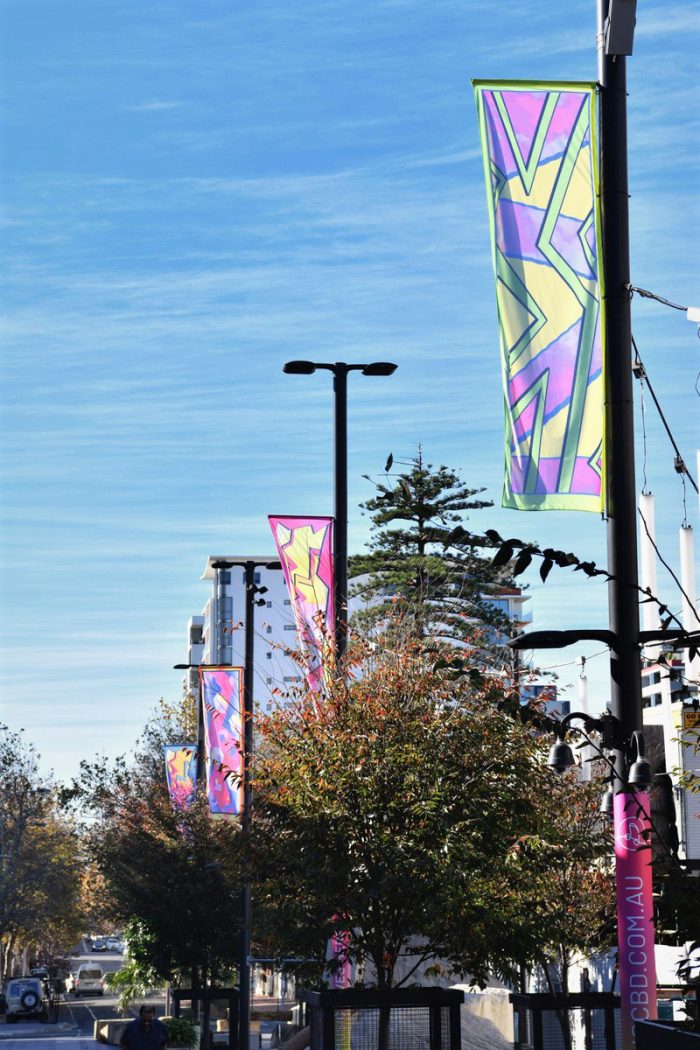 What was the inspiration behind the artworks you've designed for the Crown Street Mall?
The mall designs have been informed by what I deal with in my regular art practice, which is looking at organic and mechanical space. For me, that is representing both hard edge forms we experience in society like modernist style architecture, in juxtaposition with nature. Fortunately in Wollongong we are surrounded by both, so inspiration is constantly at my fingertips. What is slightly different about the banners and stage wraps though, is the more prevalent use of hyper-synthetic colour. These works are less contrasting than my usual workflow, but remain to portray abstracted elements of sand, sky and mountainscapes in juxtaposition with the imposing hard edge structures.
What's your approach to art for music performances?
Generally speaking, the inclusion of art for music performance is to add an additional aspect to the stage to amplify the musicians and create a unique sense of place specific to the performance/moment in time. I think its most powerful aspect is enjoyment. When there is something different happening on stage, whether its art or other stage props; people, including the participating bands, seem to be more excited to watch and perform. It's also invaluable in terms of photographic documentation and identification post-events. Having art made specifically for an event is, in my opinion, the considerably more aesthetically pleasing version of a timestamp.
Are there particular challenges or techniques unique to this type of art installation?
It really depends on the medium utilised. I have previously been a part of making installations, projection, projection mapping, traditional painting and even paper-mache and they all have very different necessary skill-sets and labour. One time, Hoon made a 2.5m paper mache 'Star Guy', filled it with lollies and suspended it from the roof of Rad Bar in Wollongong. I ended up smashing it with a golf club in our last song and 3kg of warheads and confetti went all over the bar. Took about a week to make that thing, and five seconds or less to destroy it. I'd do it again.
Most memorable exhibition or a moment you're proud of?
I generally just enjoy the actual act of making things, after it's made or performed I kind of just move onto the next thing. It is however, super satisfying and I feel, I guess; accomplished - at every exhibition, or gig we organise or perform at. Taking a moment to look up, and glance around the room at people enjoying themselves is pretty priceless and it makes me feel like I've done something to aid them to experience their current joy. So I guess, what I'm most proud of is being in a position with art and music to create things that are able to make people happy.
How has Covid affected your work and the industry locally?
Mostly negatively. There have been some good things happen during the time, sure; but realistically it's totally decimated the music industry, artists and art-workers that work within it. It would be responsible for the loss of a heap of employment opportunities for artists and workers nationwide.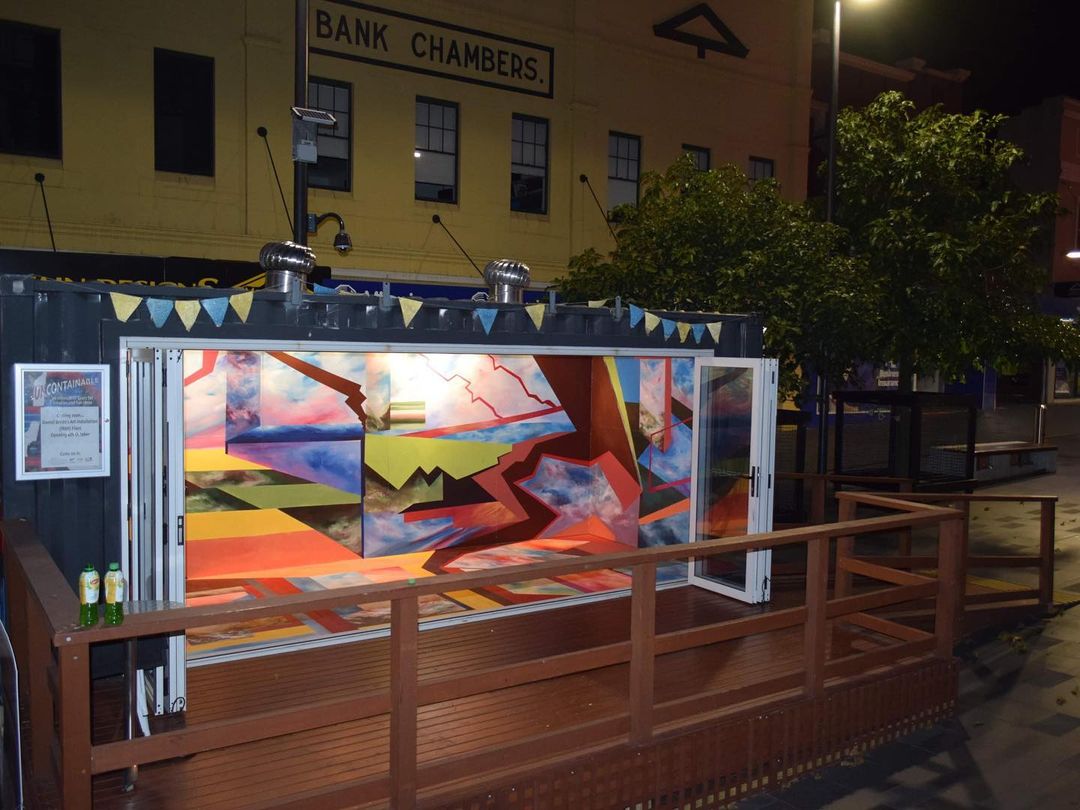 Tell us about your band Hoon
Hoon is a garage punk band from Wollongong. Three of us were born here. We've been playing together for quite a while now and have done some awesome shows during that time. We've been lucky enough to be able to tour internationally, and regularly tour Australia (pre-Covid). We got our last Australian tour done over July-August in 2019, prior to starting to write our debut studio album.
We played the Farmer & The Owl Festival and a couple of other shows before Covid, but we didn't really foresee a near year-long lockdown on music.
What's your favourite local music venue?
My favourite venue in Wollongong was Rad Bar. Because it was the only live music specific venue in the CBD, it also harboured creative culture outside of music, being the first place I was ever to exhibit as a Visual Artist and I'm sure many others first time as well. Fortunately, since it's demolition; Nathan Stratton opened Lalala's. Lalala's has a very different charm to Rad Bar, but it has the same absolutely necessary and beautiful core functions as Rad Bar - and that is to provide opportunity for performers and give punters as many live music nights per week as possible.
Visit the City of Sound exhibition in Crown St Mall this winter, or learn more about Daniel Breda here.