The burgers are bigger (and better) in the CBD
Ten years ago if you had asked someone around town where to grab the best burger, the answer might have been Chicko's - or possibly one of the Leagues Clubs. Today that's all changed, as Wollongong is spoilt for choice across a range of mouth-wateringly majestic creations.
As famous hip-hop eatery Milky Lane potentially makes its way to the Gong, it's time to take stock. Here are a few great options, whether you're after a slab of chicken or a cheap option dirrrtier than Christina.
Bourke St Burgers
Housed in a former Charcoal Chicken shop lies a North Wollongong gem with plenty of style. A clean and fresh interior complete with an alfresco alleyway means Melbourne-esque laneway cool. They're licensed too, with a small but nicely curated list of beers, wines and cocktails.
And the burgers? Sitting in-between a classic takeaway and contemporary American style, they are worth the quick trip north. Large without being too big, the "Bourke St" signature sauce giving nice balance, and the use of Monterey Jack cheese adds a touch of sweetness.
Our pick?
Go all out with the Bourke St take on an Aussie burger - the "G'day Gus", heroing bacon and beetroot. Perfect after a dip in the ocean.
Jimmy's Burger Bar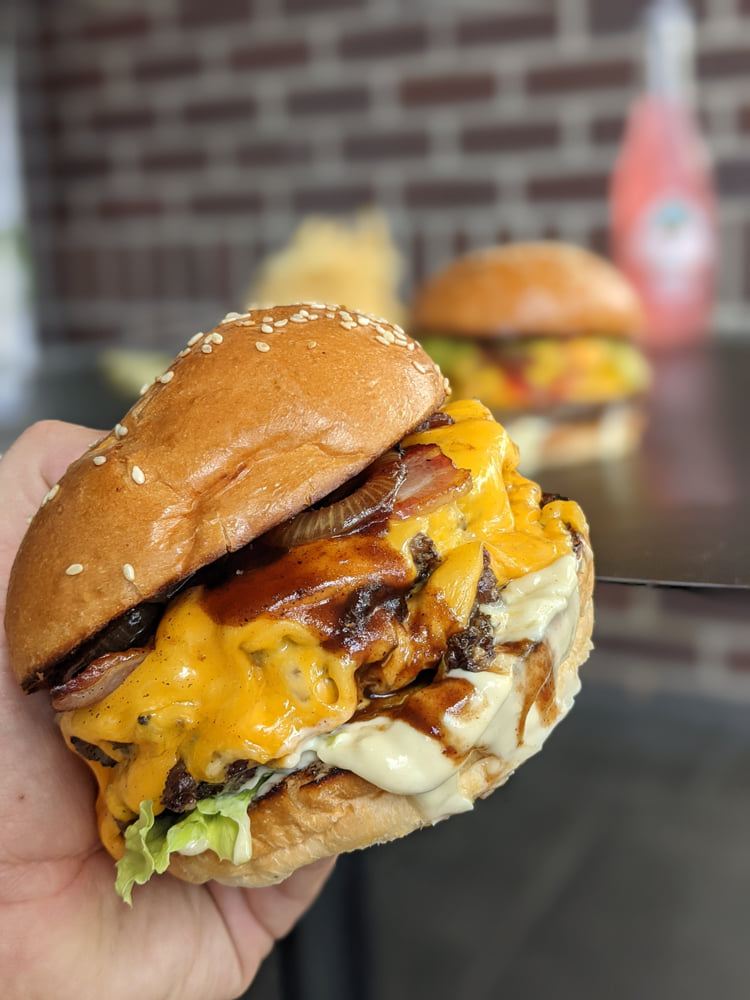 While Jimmy's are a little cheaper than most, the real reason you can find this outpost down the bottom of Crown Street always packed is due to the quality menu. Angus beef patties and American cheese combined with fresh salad ingredients and condiments mean you end up with a sizable burger in your hands. Super popular with the uni crowd, Jimmy's is always loud, full and worth a visit.
Our pick?
For something different, order the 'Off the Grill' - the vege wallop of grilled halloumi, mushroom, zucchini and aioli packs a plentiful punch.
His Boy Elroy
His Boy has really gone from strength to strength since initially opening in Globe Lane what seems like an eternity ago. Now on the main street outside Wollongong Central, the core elements haven't changed, and the Fat Boy is as good now as it was that first time. The sides deserve a shout out - but the secret that takes the burgers next level? It's the slightly sweet pickle.
Our pick?
The Fat Boy is all-time, but the Heisenburger is a dark horse, with secret dressing elevating an already great fried chicken burger.
Chicko's
You'd be hard-pressed to find anyone that hasn't had an original schnitty burger from Chicko's. But their strength lies in the almost evangelical support the outlets have around town.
Value for money even now, with large portions and a continuing sense of doing simple things well. All multiple reasons why Chicko's remains as popular as ever.
Our pick?
We made a choice - it couldn't be the original. So we will say the Canadian - the Chicko's take on poutine; a heavenly mix of schnitzel, gravy, and cheese.
Soco Kitchen
American style burgers and dude food aren't new, but regional twists on the concept bring a unique flair to the game. Soco Kitchen does southern style, which means big portions and big flavours. Cuban pork belly bites and loaded tater tots (potato gems, for the uninitiated) are fantastic, the N'awlins connection runs through superb gumbo, po'boys and jambalaya. The burgers here are home runs - seasoned well on soft buns with flavours through the roof.
Our pick?
The BBQ Bacon Cheeseburger will make you feel like you're at a tailgate party - double cheese mixing beautifully with pickles and bbq sauce for a rich, intense combination.