Back to Directory
Breakout Bar + Escape Rooms
Boutique Bars
Crown Lane
Food + Drink
Laneways
Party Venues
Pubs & Bars
Things to Do
If you're looking for a different kind of night out, Breakout Bar & Escape Rooms is a completely unique adventure. As you step in the door you'll be transported to another world, in a steampunk mixture of old world luxury, and quirky industrial decor.
In just one evening you can immerse yourself in an escape room, indulge in a creative cocktail, and belt out a tune in a private karaoke room.
What's on offer
Breakout is an immersive and interactive live adventure game where you are part of the story.
You're in the world of the enigmatic Professor B. You'll be transported by the Professor's machine to another time and place in history where you'll unravel mysteries and help the Professor find his lost love.
In a group of 2 - 8 people, you have a choice of five uniquely themed escape rooms from the brain-teasing Da Vinci room, to the very spooky Asylum.
You have one hour to work together to search for clues, solve the puzzles and escape the room.
Don't panic – you can get help along the way if you need it, and you're not really locked in!
The bar is a cosy feast for the senses. Every corner has something different for the visitor and every visit provides a unique experience.
The cocktail menu features twists on classics, and interactive experiences from spirits in test-tubes, to flaming creations.
While in the bar, you can order a delivery of the incredible wood-fired pizzas from Kneading Ruby!
Book a private karaoke room with a group for the full experience, and a unique option for parties.
12-18s are allowed in the venue before 6pm if accompanied by an adult.
After 6pm, Breakout is an 18+ licensed venue.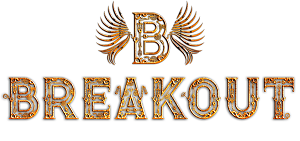 Contact Details
Opening Hours
Monday-Wednesday Closed
Thursday 5pm-10pm
Friday 2pm-12am
Saturday 10am-12am
Sunday 12pm-10pm
View website