Dine alfresco in Wollongong
Our idea of heaven is pretty simple: a little mix of good company, clear blue skies, an icy cold drink in hand, and a cool afternoon sea breeze. Now you can find your own little slice of heaven in Wollongong, with new pop-up outdoor dining areas bringing our streets to life this Summer. And the even better news? There are more on the way! Here's where you can head right now to add a side of Vitamin D to your morning coffee, lazy lunch, or sun-downer cocktail.
Humber Bar in Crown Lane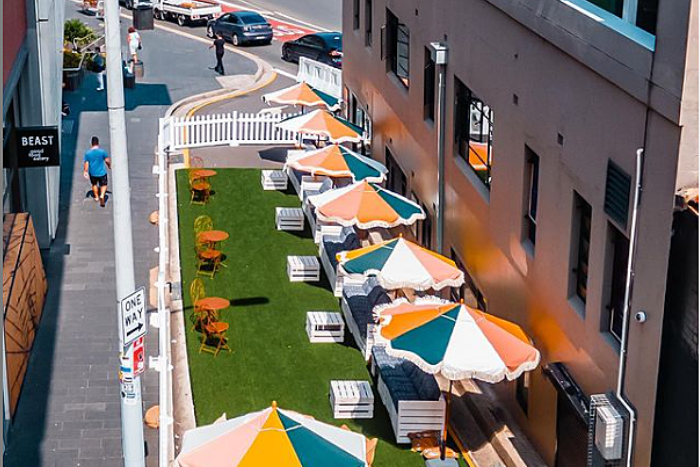 Situated in Crown Lane (the sloping laneway between Crown Street and Wollongong Central shopping centre) has had a little makeover. For a short time, the lane has been closed to traffic and Humber Bar have extended out into the lane with the perfect summer sesh set up.
Enjoy cocktails, iced prosecco, nibbles platters and dumplings delivered to your table, as you watch the sun set.
The Illawarra Hotel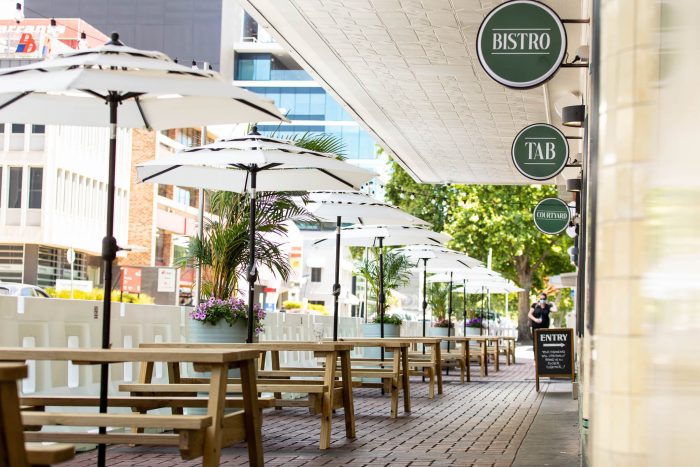 The iconic Illawarra Hotel has taken over Market Street with an amazing pop-up outdoor bar and table area.
Soak up the sunshine and make the most of top notch pub meals, cocktails, wine and beers on tap with a side of Vitamin D and safe social distancing. Win!
Dagwood
One of the OG venues on the small bar scene, Dagwood has a quirky Asian-fusion menu and vibe (helloooo noods and bao buns).
It's also super pooch friendly (they may even prioritise your doggo over you!).
Mix this with a schmick new outdoor area and it's practically calling out for an after work bevvy or two.
Lower Crown Street Mall
The Eastern end of Crown Street Mall is transforming into a leafy green coffee-lovers paradise. Five fresh new venues have extended their coffee and dining into welcoming outdoor spaces among the leafy green trees.