Sustainability meets individuality in the CBD this Christmas. Grab a coffee, and take a wander through our trail of vintage boutiques. From the hard-to-find to the one-of-a-kind, you never know what treasures you'll unearth...
Society City
Find your summer page-turner at Society City. Good reads, classics, and quirky retro volumes are all on offer in the member-run space dedicated to sharing stories and fostering creativity. The welcoming space is a secondhand bookstore, zine machine, freeschool, co-working and community events space.
Find Society City at 274-278 Crown St, Wollongong (opposite Spotlight)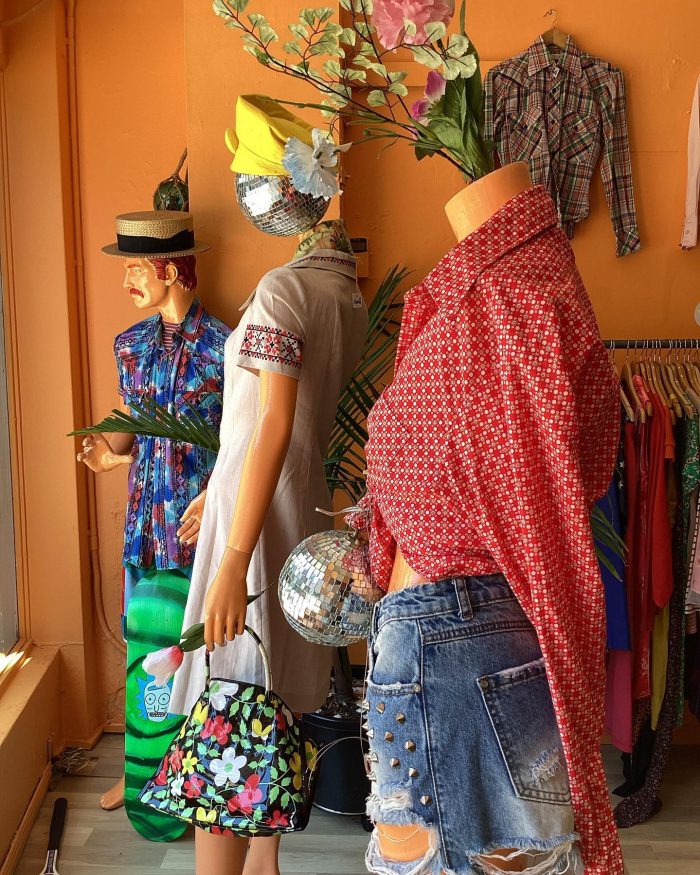 Van Q Vintage Shop
Jumping Jupiter, we're beyond excited that Thirroul's Van Yello Vintage have launched a brand new shop in Wollongong - Van Q on Keira Street! The beautifully curated collection of fashion, jewellery and art is calling out to be explored on your lunch break. Find a 90s throwback outfit, a collectible art print, or a gorgeous gift all in one little but mighty store.
Find Van Q at 220 Keira Street, near Music Farmers.
Wandering Merchants
Vin and James of Wandering Merchants are a vintage powerhouse. The uber cool duo bring their many talents to styling, photography, music and creative collaborations. AND they run a store full of goodies, including incredible pre-loved designer pieces, and vintage vinyl sold via Beveridge Enterprises, a not for profit raising funds for the creative scene.
Retro Groove
Tucked into quirky Globe Lane, Retro Groove is a cave of wonders filled with vintage fashion, jewellery, homewares, and oddities. If you're looking for a one-of-a-kind Christmas gift, or music festival outfit, this is your store! Owner Rob has quickly become a local icon, bringing passion and dedication to collating his unique range.
Find Retro Groove in Globe Lane, Wollongong (off Crown St Mall)
The Classy Closet
Cheddy Balmforth is a life long avid op shopper, who always dreamed of owning a recycled clothing boutique. At age 54 she made the leap, launching The Classy Closet. Cheddy sources clothing from across the globe to provide designer label clothing and vintage pieces at affordable prices, and in a sustainable way.
Find The Classy Closet in Central Chambers, 81-83 Church St, Wollongong (opposite the Vax Hub).
Op Shops Extravaganza
And if those aren't enough, we're totally spoiled for choice with all your favourite Op Shops scattered around the CBD in easy walking distance. You'll find: